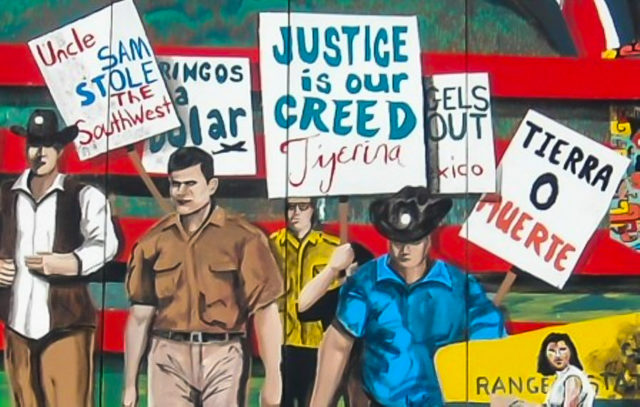 (New Mexico) — The People's History of El Norte mural in Las Vegas, Nuevo Mexico was made possible by Casa de Cultura, housed in the same predominantly Raza, rural, university town. In movable panels, the mural describes the strong grassroots history of the proud people of el norte, including northern New Mexico and southern Colorado. Such histories are rarely incorporated into Eurocentric, male dominated renditions of the southwest. While these can be considered marginalized histories, la gente have always had outlets for their stories, recording them for posterity in writing, song, dance, oral tradition, and art.
Las Vegas, New Mexico is located in San Miguel County, in the northeastern part of the state. It is rural in character, sitting on the plains and flanked on the west by the Sangre de Cristo Mountain range, part of the Rocky Mountain system. With an elevation of 6,430 feet, Las Vegas is home to a total population of 13,753 (2010 figures) of which 11,069 or 80.5 % are Hispanos/Chicanos (Las Vegas, New Mexico, 2012). The town houses New Mexico Highlands University and LUNA Community College, seats of learning and employment for many of the locals.
On the map, the town of Las Vegas, New Mexico is in a land locked position. Driving in any direction you will find yourself in another state or country! A two-hour, 110 mile drive south on I-25 will take you to Burque, Albuquerque. Driving north on I-25 in 5 hours or 327 miles you will find yourself in Denver, Colorado. If you were to go west on I-40 in 3 and a half hours, 237 miles, you would be in Amarillo, Texas. Going east on I-40 in 6 hours or 442 miles you will hit Flagstaff, Arizona and be on the way to the Grand Canyon. Finally, drive southwest and in 9 hours or 505 miles Nuevo Casas Grandes, Mexico will appear.
The power of murals
Murals are a large scale variation of codices, indigenous texts that graphically recorded cultural and historic events, before, during, and after the European conquest of the Americas. Murals also reflect and absorb context. They reflect our historical experiences over generations and absorb our thoughts and emotions as we stand before them.
Murals are like symbolic mirrors, inviting us in as we compare their images to our own contemporary lives. This interaction is continually reinforced as we pass them by on the bus, on the way to the tienda to buy ice or to have lunch with a friend – we smile, we nod at the Azteca images, the farm worker flags, the pachucos and the conjunto, playing our música – yes, those images and us are intertwined.
A form of testimonio, murals speak for us, giving a voice to those overshadowed by the dominant powers, but not silenced. Consider Rigoberta's I, Rigoberta Menchu, a narrative painted with words, exposing before the world the Guatemala indígena experience of injustice, repression and genocide. The Las Vegas mural tells and reminds passersby, be they veterans of Movimiento days, the Chicano Movement of the late '60s, early '70s, university students, chavalitos, or out-o- town tourists, of what lies beneath the tierra of el norte. → Continue reading on Page 2
© 2012 – 2016, Yoly Zentella. All rights reserved.