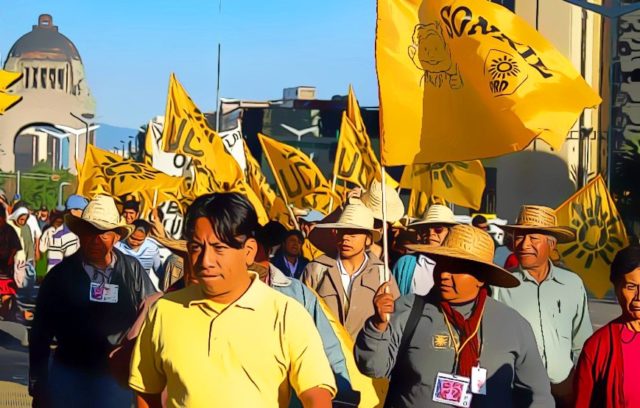 (Phoenix, Arizona) — Almost every time a group of people is going to take the streets to march and protest in favor or against any cause or issue, the question about the effectiveness of demonstrations arises. It has become a cliché to hear arguments defending and attacking the validity of the subject: "marches do work," "marches don't work." Perhaps even this commentary is part of that repetitive discourse to justify one side or the other, but for this commentator, the debate is redundant, because marches do work. It all depends on what purpose and on if those who advocate or oppose marches are willing to accept the price and acknowledge the consequences that come along with a protest.
New generations have to live their own experiences, most of the time in spite of what history has already taught us all. History will repeat itself, regardless. However, for the sake of some sense of advance and accomplishment, we shouldn't be discussing whether marches do work or don't, because the evidence is overwhelmingly in favor that they work, though not only or always in the way advocates and opponents of marches envision, want, or are willing to recognize.
Marches can work for both sides; those protesting and those being protested against. As a journalist for many years, I have seen it first hand, having attended big and small demonstrations, and having walked miles and miles along dissatisfied, angry, sometimes violent demonstrators. A march, especially a large one, cannot go unnoticed and without some sort of outcome, good or bad. In any sense, marches work because they have an effect, even if negative and counterproductive to those who organized it.
I have attended massive, impressive demonstrations where tens of thousands of people pressured the government to change their condition or situation. In every instance, these marches have worked, whether it was in bringing attention in such a dramatic way to their pleas, generating public content or displease, or backfiring on them when authorities and governments crushed movements, arrested leaders, and even killed demonstrators.
Marches work, but not just in one intended way. They may work to help alleviate an issue or to worsen it. Sometimes protests bring awareness; other times they result in repression and retaliation. Groups organizing demonstrations do it because they are persuaded they will work, but many times they fail to assess the full extent and consequences that will follow, and so often they end up working against them. Those who are being protested against, particularly if they're in political or economic power, manipulate demonstrations for their own purposes, even to try to prove their point, justify their policies, and demonize protesters.
In the early 80's, when I was in the dawn of my career as a writer and photojournalist, I attended some of the multitudinous marches teachers organized in Mexico. Those were monster marches, not the junior demonstrations we see here in Arizona. They sure created awareness to their pleas for better salaries and benefits; there were so many marching that it was impossible to ignore them. They also made many people angry because they paralyzed Downtown Mexico City, blocking streets for days and weeks. For them, their demonstrations worked positively but also negatively. They achieved little progress and failed to see most of their demands met by the government. More sadly, teachers saw one of their own killed, allegedly by the government.
Teacher and leader Misael Nuñez Acosta was gunned down on January 30, 1981. He had just finished an organizing meeting to plan a national teachers' demonstration to take place in Mexico City. The march organized after his death was even more impressive; the government's repression continued. Those strong marches worked in more than one way, and not always to benefit the demonstrators.
Most recently, I walked along one million people, again in Mexico City. Presidential candidate Manuel López Obrador and his thousands and thousands of supporters from all over the country of Mexico took to the streets several times. His protests were some of the most impressive, large and peaceful I've ever seen. López Obrador claimed he was the legitimate winner of the 2006 election, and that the incumbent government had stolen the election from him.
The massive demonstrations shook the city, pressured the government, and created a sense of a grassroots movement among protestors. Yet, the party in power utilized the marches as a way to prove López Obrador was a populist who preyed on Mexico's poorest and gained them over providing them with basic needs. At the end, those marches worked for more than one purpose; not for López Obrador and his many sympathizers' purpose.
Here in the United States, I also attended the immigrants' marches of March 24, and April 10, 2006, and May 1st, 2007. Organizers brought out to the streets the, until then, "invisible" masses of undocumented immigrants to dramatize the need for a comprehensive immigration reform. Supposing that by seeing a combined amount of millions of immigrants marching across the nation in cities like Phoenix, Chicago and Los Angeles, American citizens would be persuaded to accept a reform to legalize about 12 million people without documents.
This article continues on Page 2
© 2011 – 2016, Eduardo Barraza. All rights reserved.