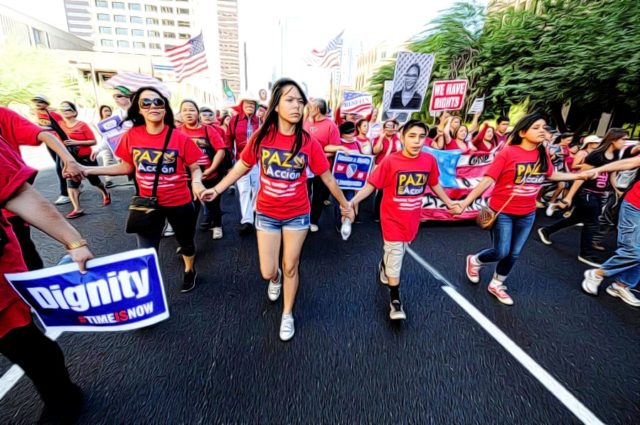 …continues from Page 1
Organizers, though, failed to consider the potential negative consequences, the backlash that followed against immigrants, and the stage created in Arizona, for example, for the volatile racial atmosphere that is fueling politicians' crackdown on undocumented immigrants, as well as the immigration enforcement conducted not just by ICE anymore but –attention, not just from the Maricopa County Sheriff Department (MCSO)– by half a dozen of Arizona law enforcement agencies.
These demonstrations worked to create the awareness about the issue, but also worked for politicians to prove their points that immigration crackdown is necessary. Today, many people believe that the main outcome of those impressive and intimidating immigrant marches was an increase in policies against undocumented individuals, a resurgence of hate crimes, and a growing opposition to an immigration reform.
Undocumented immigrant advocacy groups in Maricopa County have been protesting and organizing demonstrations more regularly since 2007. They have their own claims of effectiveness and their reasoning to continue taking their demands to the streets. At the same time, beginning with a series of protests in December 2007 against a business owner that hired off-duty sheriff deputies to patrol their premises, the MCSO launched, along the marches, a systematic crackdown on the streets to stop motorists mainly for non-moving violations that lead to the arrest of undocumented immigrants.
The Sheriff Department's actions are too obvious to dismiss the idea that they are not using a racial and economic profile to stop certain people based on their physical appearance, and that he is retaliating those who have protested against him.
Once again, these local demonstrations worked. They created awareness against Arizona's crackdown on undocumented workers and their families not only locally, but in other states. At the same time, these protests have worked for other purposes for the opposing side, by generating more support for the Sheriff, also in other states, and with people who didn't know about him before.
Another march is scheduled to take place this Saturday, January 16, 2009 in Phoenix. It may achieve its intended purposes, but it may also have its unintended consequences. Even before this demonstration takes place, the head of the MCSO has announced, according to an article published in The Arizona Republic, continued actions in the enforcement of Arizona laws against undocumented immigrants. He will again counteract by closing the jails to visitors since the protest is targeting the county's jail complex in South Phoenix.
Since demonstrations do work, perhaps the real issue is not to debate about their effectiveness, as some inexperienced analysts still do, but to consider if the consequences are worth the effort, not for the organizers, but for the people they say they represent, and ultimately, will feel in their own flesh the positive or negative impact of the protest others organized for them.
Those who claim to work on behalf of the people and encourage them to protest may be willing to pay a price for their actions, but should not assume that other, more vulnerable people can afford to pay the price of the negative consequences marches and protest may bring, and most likely they will.
The short and long outcome of demonstrations may well benefit those who participate in them. In the case of honest, hard-working and law-abiding workers and their families who are in need of an immigration reform, hopefully their situation can be resolved and obtain legal status. This writer has extensively written in favor of that. So far, my personal observation is that some actions have done more harm than the benefit they have achieved.
Nevertheless, they also must be aware of the consequences and understand that there may be a high price to pay. Instead of deciding if marches do work or don't, organizers and those who participate in the demonstrations need to decide if that price is worth it, and whether they're willing to live with the outcome, even if it boomerangs on them.
---
© 2011 – 2016, Eduardo Barraza. All rights reserved.