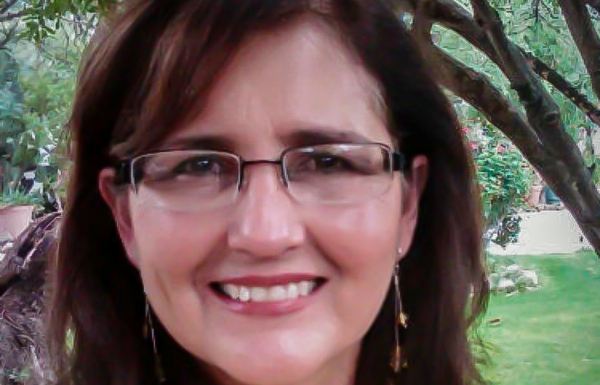 "You know how when you're cooking, you put in an egg and it holds the rice and everything together? That's what we women are. We're the egg of the family, just trying to hold together all these falling apart things. Each family is like a union and the first type of union is the family because women are organizers, leaders, thinkers, politicians, teachers, negotiators, planners and doers.
Anna Marie Ochoa O'Leary, at the height of a labor strike in Clifton-Morenci, Arizona, 1985.
Dr. Anna Marie Ochoa O'Leary was born to working class parents on April 15, 1954, in Clifton, Arizona where her father, Ernesto, earned his living as a shoemaker, and her mother, Luz, remained a homemaker. After graduating from Clifton High School in 1972, Dr. O'Leary was involved in community activities in Clifton and Morenci, helping organize fund-raising activities for the local Catholic parish and for the League of United Latin American Citizens (LULAC), where she served as secretary of the local chapter. She worked at her father's shoe shop, hoping to earn money to go to school. She was able to earn her Associate of Arts degree from Eastern Arizona College in Thatcher in 1980, and a Bachelor of Arts degree in Political Science from the University of Arizona in Tucson in 1982. She earned her doctorate degree in Anthropology from the University of Arizona in 1999. Central to Dr. O'Leary's academic and scholarly work is the economic and social status of Mexican women across the international Arizona-Mexico border.  In 1980, she married Dr. Jorge Juan Franco O'Leary, born in Hermosillo, Sonora, Mexico to a Mexican Yaqui Indian mother and an Irish father who ran one of Mexico's largest breweries, Cervecería Cuauhtémoc. He earned his medical degree at the University of Mexico in Mexico City and was hired by the Phelps Dodge Corporation as a company physician at the Morenci Hospital and later fired for his strike-support activities.
It was that same three-year labor strike that first defined Anna O'Leary—a copper strike that set the stage for bitter confrontations between mine management and union labor in a David-and-Goliath-type setting in Clifton-Morenci, located in southeastern Arizona, in Greenlee County. The copper company obtained a court injunction that kept the striking union men from maintaining picket lines. But it didn't stop the women—sisters, wives, grandmothers, daughters, girlfriends, friends and relatives of the miners –from staging the strike. Their places on the picket line transformed the Morenci Miners Women's Auxiliary (MMWA) into one of the few Mexican American working class women's groups in labor history. Under Anna O'Leary's leadership and direction, the MMWA became a formidable adversary against an angry corporate giant, one with Arizona's governor nice and comfortable and neatly tucked in its back pocket– and near the giant's wallet.
The giant was bent upon destroying unionism in Arizona, no matter the human or financial cost. What the giant didn't count on was the force and the will, the courage and the stubbornness of the women who refused to bend to the giant's power. Through it all, the MMWA –the sisterhood of strikers–took on a new life and led their own labor strike, independent of the union's negotiations. And there was Anna, Clifton's Joan of Arc, right in the forefront of it all, helping to direct and organize a support system to meet the needs of the striking families of Clifton and Morenci. She and the auxiliary women established food, clothing, and picket lines; raised funds for strikers' families; went on public speaking "solidarity tours" across the United States speaking at political conventions; to teachers' associations; lawyers' associations; and the National Organization for Women, urging support for the strike. Anna spoke at the national convention of the Coalition of Labor Union Women (CLUW). In July, 1985, she was the recipient of a Ford Foundation scholarship which sponsored her as a delegate to attend "Forum '85", a United Nations Decade for Women Conference in Nairobi, Kenya. In 1986, Anna was elected to the Clifton City Council. Her experiences with the Morenci Miners Women's Auxiliary motivated her to seek a Master of Arts degree in Anthropology from the University of Arizona. Her 1994 Masters thesis explored the history of Mexican-origin populations in the copper industry and the concept of la familia. In 1996, Anna was awarded $12,000 from the National Science Foundation for her dissertation research, "Investment in Female Education as an Economic Strategy Among U.S.-Mexican Households in Nogales, Arizona", aimed to determine factors important to Mexican-origin households as they deliberate investing in the education of its members, and in particular, women.
Related Article: The Phelps Dodge copper strike in Clifton-Morenci, 1983-1986
Today, Dr. O'Leary is an Assistant Professor of Practice in the Department of Mexican American and Raza Studies at the University of Arizona. Her path-breaking research and scholarship on Mexican women and immigration enforcement and transnational migration on the U.S.-Mexico border places her on the forefront of new research and analysis of the lives of undocumented migrant Mexicanas . A Chicano Studies textbook based on her teaching "Overview of Mexican American Studies" for her home department was published in 2007 by Kendall Hunt Publishing Company. Dr. O'Leary is also a 2006-2007 Fulbright Scholar. Her community activities include participation in several non-profit community-based groups, such as the Arizona Border Rights Foundation, Fundación México, and Las Adelitas Political Association. In her graduate and undergraduate courses, Dr. O'Leary teaches her students the importance of examining cultural struggles of Mexican and Mexican American populations using oral history methodologies. Her "Borderlife Oral History Project" remains one of her most popular projects. Dr. O'Leary enables students to better understand Mexican immigrant/refugee policies and their effects on Mexicanas along the U.S.-Mexico border. She is one of the most respected scholars in her field.
In her work, Dr. O'Leary pays tribute to the Mexicanas whose social, economic and political struggles mean something to the world. They are much like the women of the Morenci Miners Women's Auxiliary in Clifton-Morenci, whose struggles against a copper company in that long labor strike meant something to them and to the world. During one of their labor rallies, the award-winning Hollywood actor and union supporter, Ed Asner, gave an inspiring speech and paid tribute to the women. He said: "Security is a precious gift we can give to our families, but a greater gift is showing them we can stand up for what we believe in. Franklin Delano Roosevelt said we have nothing to fear but fear itself—but maybe Eleanor Roosevelt, his wife, knew more about it. She said that every time you stare fear in the face and live through it, you grow. You must do the thing you cannot do."
Dr. Anna Marie Ochoa O'Leary, Clifton's Joan of Arc, and the women of the Morenci Miners Women's Auxiliary stared that corporate giant in the face. She grew, and so did they.
---
Related Video
© 2012 – 2017, Dr. Christine Marin. All rights reserved.