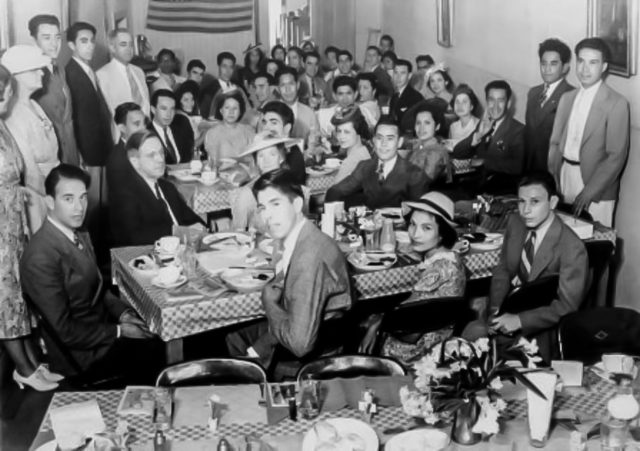 "We used to joke about the name of the organization. We thought it was  kind of pretentious to be associated with Spaniards when our parents or  grandparents were born in Mexico and our fathers did pick-and-shovel work in the mines. Just because we spoke Spanish didn't mean we were Spaniards. We were Mexican Americans. What we wanted to do was emphasize that we were Americans first, and of Mexican descent, second. We were proud to be of Mexican descent, yes. But we were born in the United States, not Mexico."
The club Charles Bejarano of Miami, Arizona spoke about is called "Los Conquistadores", the first Mexican American student organization formed at Arizona State Teachers College in Tempe in 1937. Charles and his brother, Arthur, along with many other students in the 1950s, sought to re-create a "home town feeling" within their campus so that members could work together to help others become successful in school.
"We knew that our parents gave us opportunities to become college educated," Charles said, "and we didn't want to disappoint them. I suppose we were their American Dream. We had dreams too."
Bejarano's desire to maintain a bilingual-bicultural connection to his dual heritage, and to take the best characteristics from both cultures, Mexican and American, was a shared desire among students who belonged to "Los Conquistadores" in the decade of the 1950s. It was the same desire shared by members of "Los Conquistadores" in the 1930s and the 1940s.
The Conquistadores' claim to this duality of cultures, however, was not evident in 1917, the year a precursor group was founded. It was known then as the "Spanish Club", and it boasted a membership of twenty-five students, none of whom were Mexican nor of Spanish heritage; nor were they particularly fluent in the Spanish language. They were Anglo- American students who studied the Spanish language as part of their curriculum. Such courses were popular at the Tempe Normal School in the early 20th century because of their commercial value. In fact, Spanish courses were offered to Tempe Normal students as early as 1907. It made practical sense for these future teachers to acquire Spanish language skills and to use them in Arizona's territorial schools, where "fifty percent of the school age children in the Territory spoke Spanish" in 1906. To underscore this growing statistic, Apache County School Superintendent Alfred Ruiz stated his opinion that the territorial Normal School had a responsibility to train and to prepare bilingual teachers for these Spanish-speaking students. When Arizona reached statehood in 1912, its school age population grew from 17,716 to 42,318, and along with it, so did teachers' pay.
With goals of wanting "to further the ability of speaking Spanish and to arouse sympathetic interest in the Spanish and Latin-American peoples," the Spanish Club members practiced their language skills by presenting Spanish dramas to campus audiences during the formative years of 1917- 1922. In the 1923-24 school, a new advisor, Dr. Irma Wilson, changed the group's name from the Spanish Club to Los Hidalgos del Desierto, or "The Lords of the Desert."
Dr. Irma Wilson came to teach Spanish at the Tempe Normal School in 1922 and retired from Arizona State University in 1966 after forty-four years of teaching. She also served as Head of the Spanish Department; student advisor to foreign language campus organizations, including "Los Conquistadores", and was known as the "First Lady of the ASU Faculty." She was also known for her kindness and generosity towards her students. For example, she paid for students' school supplies and purchased eye glasses for some members of "Los Conquistadores" when they could not afford them.
In the early 1920s, Los Hidalgos del Desierto attracted new members, Mexican American students: Raphael Carlos Estrada; Adam Celaya; Richard Curiel; Nellie Martinez; Adela Loroña, and Helen Bracamonte, among others. The club members met at Dr. Wilson's home, near the campus, and she often spoke to them about her travels to Spain and Mexico.
By 1934, Mexican American students at Arizona State Teachers College began supporting political issues advanced by the southern California group of college students who were active in the "Mexican American Movement", or MAM. The group held their first student conference in San Pedro, California in that same year, 1934. Felix J. Gutierrez, journalism major at Pasadena Junior College, was among the students at the conference. The students in MAM wanted to work together with other Mexican American students in the southwest to improve the socio- economic conditions of Mexican families, and to call attention to the racism and discrimination they experienced in their communities. Education would be their tool to eliminate despair. And so MAM adopted the motto, "Progress Through Education." It became the rallying cry for MAM's efforts to unite Mexican American college students in California, Arizona and Texas colleges and universities.
Among the college students who brought MAM's ideology from California to Arizona in the late 1930s and the early 1940s and to Arizona State Teachers College were the Muñoz siblings: Rosalio; Rebecca; Lucinda; Elizabeth; and Josephine. The Muñoz siblings and others, who were already members of Los Hidalgos, knew the only way they could become part of MAM's growing community efforts and participate in their own student conferences and work on community issues, such as poverty and discrimination against Mexicanos in Phoenix, was to break away from Los Hidalgos and form their own student organization. They spoke with Dr. Wilson about their concerns and asked her to serve as their student advisor. And she said yes. After some discussion, they all agreed to call this new Mexican American student organization, "Los Conquistadores." On October 1, 1937, they followed academic procedures and wrote to the Arizona State Teachers College Committee On Organizations and asked permission to form a club for Mexican American students. One reason behind their requests was "to interest others in a college education, especially those of our own nationality." Rosalio Muñoz and his sister, Josephine, agreed to assist the Preamble Committee, made up by Hilario T. Alvarado from Miami, Arizona and Tony Vicente from Jerome, Arizona. It was their responsibility to compose the fundamental laws and principles of their new group. By the end of the Fall semester, 1937, they had drawn up their official Constitution, which included the Preamble and the Articles which spelled out the purposes, duties, and responsibilities of Los Conquistadores. The new club was added to the list of campus organizations at Arizona State Teachers College. The 1937 Preamble of Los Conquistadores read:
"We, the Spanish-Speaking Students of Arizona State College at Tempe, in order to develop a better understanding between ourselves and others; to gain greater social, cultural, and intellectual values through our association with others; to interest others in a college education, especially those of our own nationality, do hereby organize this club. The name of this club shall be "Los Conquistadores." Said club shall exist on the campus of Arizona State College at Tempe."
To begin their work, Los Conquistadores formed the "Endowment Fund Committee," headed by Rosalio Muñoz, Edmundo Valdez, and Hilario T. Alvarado. The committee was charged with seeking financial contributions from citizens throughout the state to support Los Conquistadores in their efforts. The money raised was used to help financially strapped Mexican American high school and college students to go to the college of their choice. Funds raised were divided into two ways: one half of the money was used by Los Conquistadores to help students in the Phoenix area; and the other half was shared among Phoenix Junior College, Arizona State College in Flagstaff, and the University of Arizona in Tucson to help students in those areas.
In 1939, Los Conquistadores hosted a Mexican American Youth Conference at Arizona State Teachers College on December 2-3. Their conference theme, "Progress Through Education," was not lost on the Mexican Consul from Phoenix, Morelos Gonzales, whose address to conference participants emphasized the educational opportunities that Arizona's schools had to offer to the Mexican American community in Arizona.
The Arizona conference was a success, and it sparked the energies and the enthusiasm of Los Conquistadores. They participated in the Mexican Youth Conference held at an Army and Navy building in San Pedro, California in March, 1940, the site of the first youth conference in 1934. And Los Conquistadores held their second statewide Mexican Youth Conference at ASTC in November, 1940 and their third annual conference in December 6-7, 1941. While at the conference, students learned about the bombing of Pearl Harbor. The wartime years saw the commitment made by Los Conquistadores to serve their country, as military service took away many of the men in the club. Some of them were Honorato Manriquez; Gilbert Orrantia; Orlando Loera; Fred Saucedo; Ray Flores; and Hilario Alvarado. Killed in action were Orlando Loera, from Miami, Arizona and Fred Saucedo, from Globe, Arizona. With the men away, the women of Los Conquistadores shared home-front duties and kept the club active and financially solid.
Marguerite Sanchez joined Los Conquistadores in 1939 and lived in Tempe while she attended ASTC. She was elected as the club's Secretary in 1940 and remained in that office until 1943. That was the year she was elected as President of Los Conquistadores, the first woman to hold that office. Marguerite Sanchez, a Senior in 1943, joined the WAACS and served her country well. Sara Carrillo replaced her as President of Los Conquistadores in the Fall of 1943. Officers included Frances Ybarra, Vice-President; Marie Corrales, Secretary; Martha Navarrette, Treasurer; Margarite Rojas, Publicity Manager; and Toni Montero, Sergeant-at-Arms.
When the war ended, Mexican American students continued to remain active in Los Conquistadores and worked to serve their communities by raising funds to establish financial aid scholarships for young Mexican American high school students. Their record of commitment and public service from 1937 to the end of the war in 1945 served as stepping stones for others in the 1950s to follow. Members had a sense of ethnic pride as Mexican Americans; yet, they also held a pride in their identity as Americans. This G.I. generation of Los Conquistadores, those who served from 1937 to 1945, established a legacy of hard work and accomplishment, all of which served as examples for the next generation of the 1950s to follow. As Charles Bejarano, a graduate of Miami High School and a new member of Los Conquistadores in 1951 said:
"We knew that our parents gave us opportunities to become college educated, and we didn't want to disappoint them. I suppose we were their American Dream. We had dreams too."
The members of Los Conquistadores, the men and women, celebrated their 14th Annual Reunion at the Holiday Inn in Tempe, just a block away from their beloved campus of Arizona State University. We should thank them for their courage and their service to their Mexican American communities and for living their motto: "Progress Through Education."
© 2009 – 2017, Dr. Christine Marin. All rights reserved.