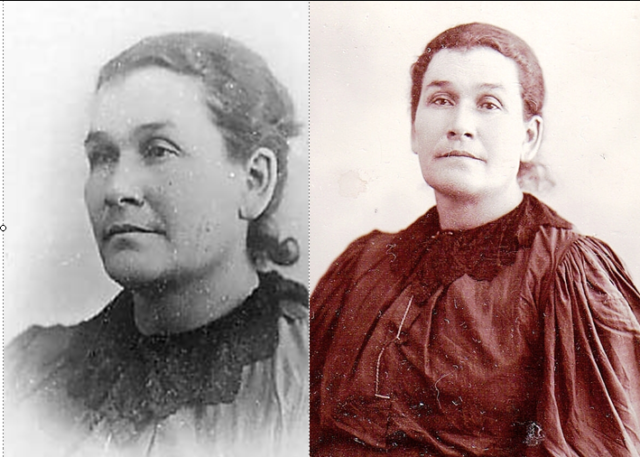 PART II
The family was quarantined by the county health department. John died as the result of his illness. The combination of his illness and the quarantine cut short Marina's education. But she returned to the Tempe Normal School the following year and graduated from TNS in 1906. Her first teaching position was at Benson, Arizona where she earned $ 75 a month teaching in the room of a Chinese dining hall, divided by a curtain. While she taught on one side of the curtain, there were Chinese cooks giving orders on the other side of the curtain. She remained in Benson a year. Marina acquired her second teaching position the following year in Clifton, where she met Jack Wellington, an electrician for the local copper mine, and who lived in the same boarding house she did. Marina Gonzales priest married Jack Wellington in 1913 in Clifton, where she continued to teach.
Sophia Sigala Muñoz, born in Tempe in 1906, graduated from the Tempe Normal school in 1926. She became a home economics teacher for the United States Department of Agriculture and taught home-making and sanitation skills to the Mexican families who lived in the migrant camps in west Phoenix. She played an important role in the establishment of culinary programs for agricultural workers imported from Mexico to Arizona during World War II. Sophia Sigala Muñoz died in 1966 at the age of 61.
Mary Jones Gomez is another example of a woman who maintained her bicultural diversity and bilingualism. Her grandfather was Walker Wilson Jones, who studied medicine at the University of Maryland and came west. He bought land in California and practiced medicine, specializing in tuberculosis. That specialty brought Doctor Jones to Arizona, where he was able to aid in the health and care of those in tubercular camps in and around Phoenix. He met and married Alcaria Montano, and they made their home in Wickenburg. Their first child was a daughter, Kathryn Jones. Years later and after the death of Kathryn's father, her mother, Alcaria, acquired the management of her husband's cattle ranch and hired Jesus E. Gomez to work with other men on her ranch. That same Tempe property later became the land occupied by the Cook School for Christian Leadership, now called Cook Native American Ministries, located near 52nd Street and University Drive in Tempe. Today, that same property is worth $40 million. The Cook Native American Ministries sold that land to Mark-Taylor Incorporated, a Phoenix development company that has carried out several other major residential projects in Tempe. Mary Jones attended the Tempe Normal School and acquired her teaching diploma in 1929, as did her sister, Inez Jones, in 1936. Mary taught Spanish at secondary schools in Scottsdale and Phoenix. She met her future husband, Jesus Gomez, when he worked for her mother, Alcaria, on her ranch.
As I was researching the history of Mexicanas at the Tempe Normal School, I became intrigued by the Tempe story of Tiburcio and Manuela Sanchez Sotelo, whose daughter, Maria Sotelo, symbolizes the rich, cultural history and diversity of Tempe and Tempe's link to the history of the Tempe Normal School. This is the story.
Maria Sotelo's grandfather, Ignacio Sotelo, a lieutenant in the Mexican government, served as the commander of the presidio of San Ignacio de Tubac from 1813 to 1814. In 1820, the Mexican government assigned him the responsibility of over-seeing the Tumacacori Mission in southern Arizona.
Tiburcio Sotelo came to Tempe in 1870 with his sons, Jose and Feliciano and his brother, Pedro. They helped the Mexican farmers who lived in the south mountain area along the Salt River beneath the present-day 24th and 40th streets build the "Mexican ditch" also known as the San Francisco canal. The Mexican ditch brought life-saving water to their farm lands. The head of the canal was located near what is now Tempe. And the channel extended three and one-quarter miles in a southwesterly direction toward the north foothills of south mountain. The industrious nature and strong work- ethic of the Sotelo men caught the attention of Winchester Miller, a Confederate soldier from Ohio who came to Tempe via California in 1869. Miller was the first zanjero, or water master, for the Hardy irrigation canal, later called the Tempe Canal Company when it became part of the Salt River Valley Water Users' Association canal network. In 1871, Miller hired Tiburcio, his sons and his brother to work for him as irrigation workers. Their steady work and pay enabled Tiburcio to buy and settle on 160 acres of land in Tempe, which was platted in 1890 by Tiburcio's wife, Manuela, and called the Sotelo Addition. Manuela and her children forged a living as enterprising farmers within a wilderness ready for improvement by Mexican families like the Sotelos. They grew herbs, beans, squash, and corn or sold or traded their crops with other farmers.
Maria Sotelo, Tiburcio's daughter, was now a lovely, well-mannered and intelligent nineteen (19) year-old in 1872, educated in a private school administered by the Catholic Church in Pitiquito, Sonora, Mexico. Winchester Miller, a widower twice Maria's age and with teen-age children of his own, became captivated by Maria's youth and beauty and after a five-month courtship approved by Maria's father, Miller made Maria his bride in Tucson on January 8, 1873. Unfortunately, an ailing Tiburcio died in Florence some time before the wedding and did not see his daughter marry Miller.
Miller took young Maria to his sparse home in the settlement of Lehi, the home provided to him by the Tempe Canal Company when Miller served as its superintendent. The one-room house, fortified only by a door, bore no windows; instead, port-holes served as protection against the Apache and Pima Indians nearby. The Millers soon moved to Tempe, where their first child, Anna Manuela Sotelo Miller was born in October, 1873. It is believed that Anna is the first Anglo-Mexican child born in Tempe, a frontier example of the results of a mixed-culture marriage so characteristic of what brought prosperity and development to Tempe and what made the community unique in its own heritage of cultural diversity.
Maria Sotelo Miller raised eleven (11) children. Records show that six (6) of her children attended the Arizona Terriitorial Normal School in the period from 1896 to 1906. Her daughters, Anna Manuela Sotelo Miller and Clara Maria Sotelo Miller graduated from the Arizona Territorial Normal School, each with two-year teaching diplomas. Anna taught school in Flagstaff for three years and her sister, Clara, taught in Tempe and Buckeye. It is important to note that their mother, Maria Sotelo Miller, regarded education as a civic and parental responsibility. Thus, it is likely that all of Winchester and Maria Sotelo Miller's eleven (11) children, all born in Tempe, attended the Arizona Territorial Normal School, also known as the Tempe Normal School: and they are:
Anna Manuela Miller, born in 1973
Clara Maria Miller, born in 1874
Albert James Miller, born in 1878
Samuel B. Miller, born in 1880
Andrew J. Miller, born in 1880
Sarah "Sally" Miller, born in 1884
Benjamin Miller, born in 1886
Rosa Miller, born in 1890
Louis Winchester Miller, born in 1891
Lydia L. Miller, born in 1894
Laura Miller, …whose birth date I could not confirm.
The legacy of the Mexicanas of the Tempe Normal School is linked to the cultural and educational underpinnings of Tempe. It is important to remember that these women share a rich and proud history with Tempe, their native home town.
Author's Note: My thanks to Laura K. Muñoz for sharing this information with me. See her 2006 ASU doctoral dissertation for an in-depth historical analysis on this topic : "Desert Dreams: Mexican American Education in Arizona, 1870-1930." Arizona State University. 2006, 349 pages. ( Call number: LD 179.15 2006d M866. Hayden library. Arizona State University. Tempe.
© 2009 – 2017, Dr. Christine Marin. All rights reserved.