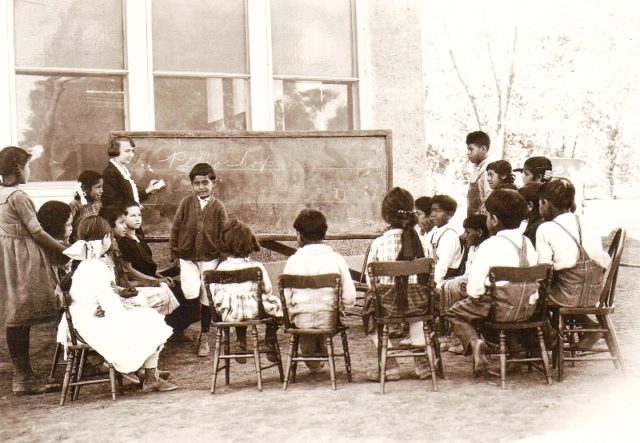 PART I
Between 1885 when the charter to establish Tempe Normal School was passed, and 1936, the institution (TNS) graduated over sixty Mexican American teachers, roughly two percent of its student body. Mostly women (about a dozen were men), these Mexican American students earned two-year college diplomas and assumed teaching positions in Arizona's segregated public schools. Opening its doors in the fall of 1886 as the Territorial Normal School at Tempe and known by several names, including the present day Arizona State University, TNS enrolled thirty-three students in its first year and awarded 3,522 teaching diplomas by 1936. The two-year curriculum, equivalent to the modern-day associate's degree, provided a general liberal arts education, combined with instruction in teaching methods, and qualified students to sit for the state teacher's examination they were required to pass in order to graduate and teach in Arizona's public schools.
In 1925 the state of Arizona reclassified Tempe Normal School as a four-year state teacher's college offering a baccalaureate in education; however, the college continued to issue the two-year teaching diploma until 1936. Many of these two-year graduates later returned to the college to complete their baccalaureates. The coeds gained classroom experience by practice teaching in several laboratory schools, including Tempe's Eighth Street School, operated by the college. The Eighth Street School gained statewide notoriety as a result of a 1925 lawsuit, Romo v. Laird, which challenged an agreement between Tempe Elementary School District No. 3 and Tempe Normal School to operate the school as a "Mexican training school" for Mexican American or Spanish American children. While Mexican American parents won the right to send their children to Tempe's nearby "American" public school, Tempe Normal School and the district also secured the right under "separate but equal" laws to continue operating the segregated training school and its "Americanization" curriculum until its closure in 1945.
Rosa Jaime was the first Spanish-surnamed woman to appear on the Tempe Normal School graduation roster in 1907. Oral histories suggest that Spanish-surnamed women may have attended as early as the 1890's. Teacher Petra Ochoa, who taught in rural Mexican schools and Indian reservation schools, is remembered as an 1897 Tempe Normal School student. Anna "Ann" Manuela Miller, the daughter of Tempe citizens Winchester Miller, Sr. and Maria Sotelo, also graduated in 1897. Enrollment registers confirm that after 1910, Spanish-surnamed women, as well as women of mixed Anglo and Mexican heritage, regularly graduated from Tempe Normal School, beginning with Eliza Loroña in 1911, Concepcion Faras in 1913 and Carmela Martinez in 1915. By 1917, Mexican American women became easily recognizable on the Tempe Normal School campus. From 1917 to 1920, three to four Mexican American women earned diplomas each year, including Rosemary Faras, who taught at Pirtleville Elementary School in the outskirts of Douglas, where her older sister, Concepcion, served as principal. In 1921, Tempe native, Maria Escalante, graduated and took a teaching position at a Phoenix-area Mexican school. She later taught Spanish at Scottsdale High School. Of fifty-one Spanish surnamed women who enrolled at the Tempe Normal School between 1887 and 1936, the majority graduated after 1924. Thirty-five Spanish surnamed women earned diplomas between 1924 and 1936.
Mexican American women may not have pursued teaching, except that it provided an opening for broadening their lives for playing a role in the development of their Tempe community. During the Spanish colonial and Mexican periods, non- formal education predominated as the method for instructing Mexican and Mexican American girls and young women. For example, Mexicanas received tutoring at home; catechism lessons from priests or nuns; attended private schools, called "amiga" schools or "escuelitas", taught by local widows or single women. Wealthy families sent their daughters to private schools in Mexico or in Spain. Catholic teaching orders influenced the vocational choice of Mexicanas in Arizona. In 1901, schoolteacher Petra Ochoa married Tiburcio Diaz of Tucson and had 9 (nine) children. While Petra taught at a Tohono O' odham Indian school near Sells before her marriage, her three (3) eldest daughters chose to join the teaching order of the Sacred Heart of Jesus convent in Tucson in the 1920's.
In order to work as teachers in Arizona, applicants gained certification either by passing a state teachers' examination, by presenting credentials from another state or by attending the state's normal schools, in Tempe or Flagstaff, where they completed two years of higher education and earned diplomas. Women teachers generally earned less money than male teachers and men held more administrative positions than women teachers. In 1923-24, for example, Rafael Estrada, Junior, of Tempe, earned $150 monthly in his first teaching job at the elementary level in Winslow. His friend, Ida Celaya, earned $144 monthly for teaching first grade, although she had five (5) years' experience, while Estrada had none: a difference of six (6)dollars in monthly pay. Male political leaders and school superintendents generally believed that women's work, even though it was that of a teacher, was simply not as valued, financially. Women teachers cost less because the profession justified lesser pay for women.
Tempe's early history reflects its Mexican-Anglo heritage of cultural diversity through the theme of intermarriage. The Mariana Gonzales/James T. Priest children joined classmates from such marriages. For example, Wilson Walker Jones and his Mexican wife, Alcaria Montano, sent several children and grandchildren to Tempe Normal School in the period from 1906 to 1935: they were Laura Jones; Mary Jones; and Inez Jones.
I want to tell you a little more about the Mexicanas of Tempe—those who attended Tempe Normal School and received their diplomas: Lourdes Gonzales Priest, the daughter of Mariana Gonzales and James Templeman Priest, born in Tempe in 1888, attended Tempe Normal School from 1905 to 1907 and graduated from TNS at the age of 19 in 1907. She went to Clifton upon graduation and taught in the elementary school until 1910. That was the year she met and married George S. Martin and settled down and began home-making duties in Clifton. Lourdes and her husband moved to Tempe in 1933, where George Martin died in 1964. In that same year, and at the age of 76, Lourdes Gonzales Priest Martin resumed her teaching career at Our Lady of Mount Carmel School and later at Saint Teresa's parochial school and retired from teaching in 1970. Lourdes Gonzales Priest Martin died in Tempe at the age of 89 in 1977.
Her sister, Marina Gonzales Priest, born in Tempe in 1883, began her higher education at the Tempe Normal School in 1902. That was when her beloved brother, John, caught scarlet fever, considered fatal at the time.
© 2009 – 2017, Dr. Christine Marin. All rights reserved.